Food Huggers Lids; stackable, transparent lids for the bowls you already have in your kitchen!
Food Huggers Lids is the beautiful new product of Food Huggers. And like we are used from Food Huggers, also this line has a fantastic design, without any compromise.
The optimum has been achieved in terms of both appearance and practical application. The lids are made of tempered glass with a flexible silicone edge, so they are impact resistant. The Food Huggers Lids are the sustainable solution for covering bowls and dishes. No more use of plastic, but nice sturdy lids to cover bowls with food. Due to the strength, they are suitable for stacking, so that your fridge or pantry can be optimally used and looks fantastic!
Different sorts & sizes
We have the Food Huggers Lids available in 4 different sizes.
Each size in 2 colors: soft white & gradual green.

Food Huggers Lids are the only flexible fit lids with the strength to stack. The tempered glass lets you see what you have stored.
Stackable, durable tempered glass saves space
See what's inside your bowls
Keeps your fridge organized (and beautiful)
Dishwasher safe & easy to clean
Say goodbye to plastic wrap and foil waste
Save food, save money
100% BPA and phthalate free
Support women owned & inventor owned small business
Watch the video above to see them in action (and HEAR the quality of the seal)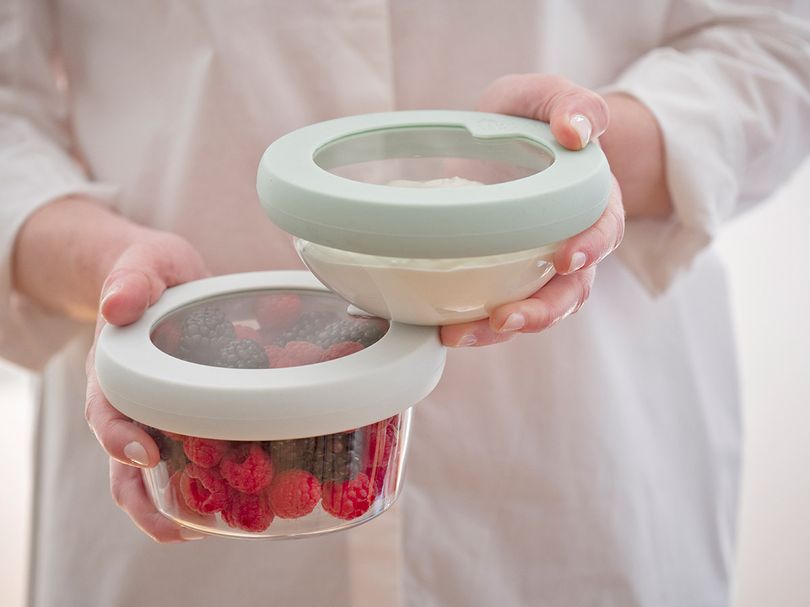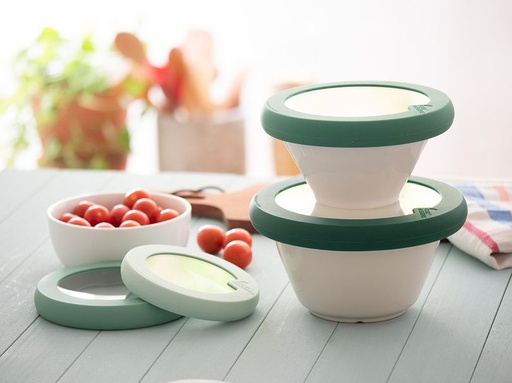 Become a fan too
Food Huggers dramatically reduce your trash footprint while also saving your food from premature spoiling. If you too are a fan, contact us and

become a reseller
About Food Huggers
Food Huggers was launched via a kickstarter in 2013 by Michelle and Adrienne. Their goal, reducing the amount of fruits and veggies that spoil before they can be eaten and enjoyed. Their mission now is to design and create tools that make sustainable habits easy and fun without giving up convenience nor style. Their inspiration is delicious fresh food and their goal is to help people reduce waste at home. For more information visit the Food Huggers website.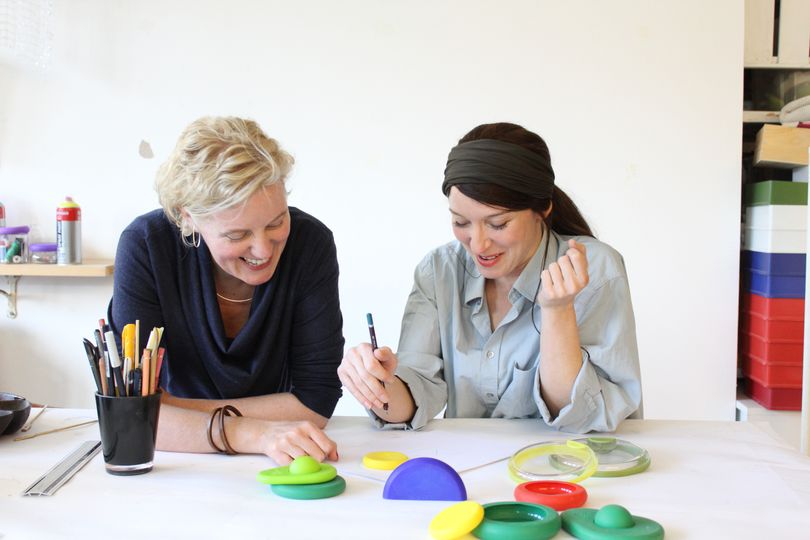 To install this Web App in your iPhone/iPad press
and then Add to Home Screen.